721 Grove Place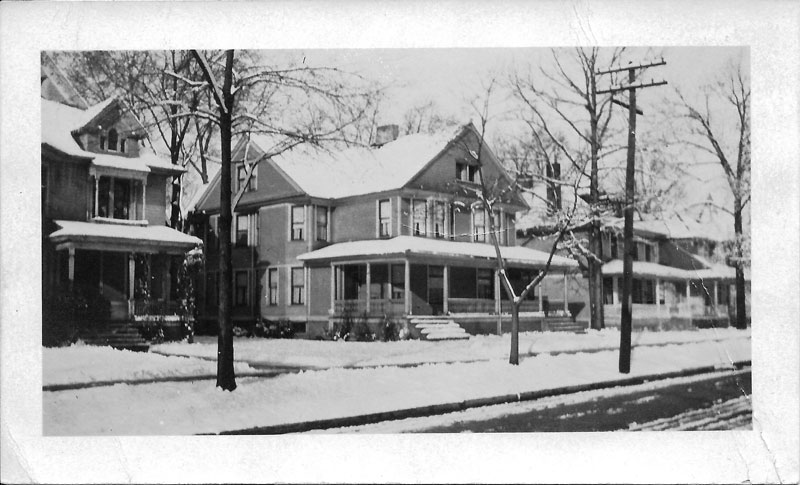 The Scottwood Ave house was damaged by a fire in 1917. The Wheeler family moved to a new house on Grove Place. My dad Lyman Wheeler remembers visiting his grandmother Ida Thomas Wheeler at this house. His recollection is from his visits to Toledo as a boy during the twenties and thirties. It is possible that this house was still with the family when he visited his cousins in Toledo during WW-II. It was a big house near the Toledo Art Museum. It was demolished to make room for the expansion of the Art Museum or the interstate highway system. We found this picture in Lyman's archives, with following writing at the back:
"Mom, a good picture of the house. Mr Lyon took it after the big snow of May 1921."
There is a stamp at the back of the picture that says: 1637 Broadway (or possibly 1837 Broadway). PHOTO CRAFT SHOP, Toledo Ohio
Clearly, it was written by my grandfather Lyman Wheeler. Once again, we contacted Larry, the Old West End History Detective. Here's Larry's reply:
The 1921 Polk Toledo Directory has Mrs. I. P. Wheeler listed as the resident of 721 Grove Place. George R. Lyon was listed as the resident of 723 Grove Place. He and his wife Clara Kinsting Lyon moved to Detroit around 1935. In 1921 Mr. Lyon was the vice-president and treasurer of The Power Equipment Company. He passed in 1952. I could find no listing for the Photo Craft Shop in the 1921 directory.
I think that you could be right in assuming the photo is of Grove Place. The legal description of 721-723 correlates with the photo of a side-by-side building housing two families. With the name of Mr. Lyon associated with the photo and his address as being 723 Grove Place, it makes logical sense.
We have a legal document from the 1930s that shows that 721 and 723 Grove Place belonged to the Wheeler family.
March 2013
Email barbaramedamana@yahoo.com to contact webmaster