Wheeler Genealogy
LYMAN WHEELER II of Toledo, OH (1876-1937)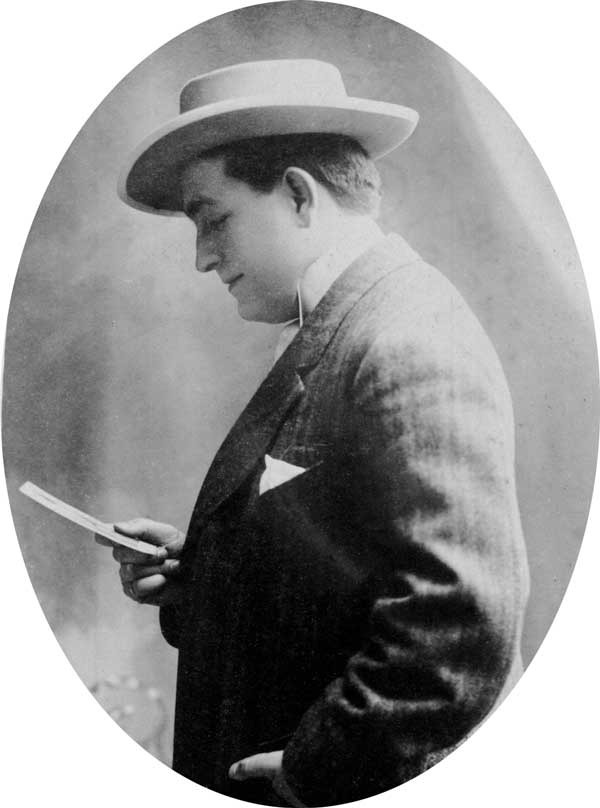 Picture taken circa 1915
We found the following biography of Lyman's theatrical career in "A Minstrel Town", by Marion S. Revett; published by Pageant press, Inc, New York, in 1955. - BWM
Born in 1877 (This date is incorrect; Lyman was born on 3/1/1876) to Jeffrey Wheeler's (owner of old Wheeler Opera House), Lyman got off to an early start at the age of twelve in a local Kermiss Dance Festival. In 1892, with the rest of the members of the Banjo Club, he took part in the Press Club annual show, and five years later was old enough to become a member of Bert St. John's Tuxedo Minstrels.
On April 11, 1897, the Wilbur Opera Company again welcomed local ( i.e., Toledo) talent by hiring six amateurs for their week's booking, and Lyman went along from there. One year later they were back for five weeks of summer stock at the Valentine ( a theater in Toledo), and Lyman's roles included parts in Said Pasha, Carmen, Royal Middy, and the Queen's Lace Hankerchief. After a booking in Columbus, the whole cast was back for another four weeks of Merry War, Two Vagabonds, Giroffe Giroffa, and Fra Diavola. By the third season, Susie Kirwin had given Wheeler many of the leads, and to please local friends, perhaps, told reporters, "He is essential to the company's success".
In 1904 Wheeler returned to town with the Princess Chic Comic Opera Company, and on October 31st, at Haughton, Michigan, he married a member of the cast - Margaret Cecilia Ford. Kirk LaShelle had hired him as lead tenor for their tour.
In 1906 he was singing Trevor in The Red Feather, and the following year he carried the lead for the Aborn Opera Company in Robin Hood.
During 1908 Wheeler was successively with the Olympic Opera Company (stock), in Los Angeles, and Toledo's Bradford Mills Opera Company for a summer season at Cedar Point in Olivette, Pinafore, and other old-time favourites.
Lyman Wheeler moved to New York soon after his father's death in 1919. He lived in Great Kills (Staten Island) with his wife Mary. He died in 1937 at age 61. His body was taken to Toledo by train for burial in the Woodlawn cemetery. We found his headstone there along with those of his parents and sisters.