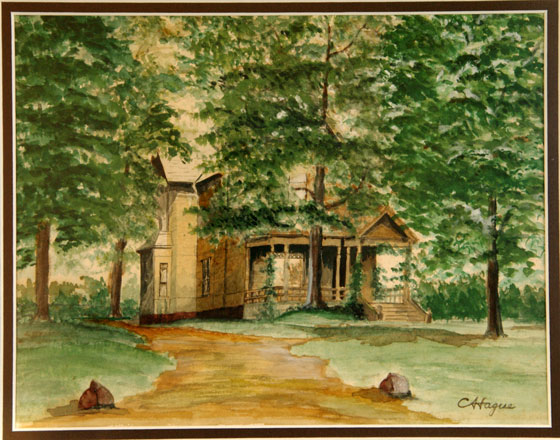 Robert Jeffrey Wheeler built this house on Scottwood Avenue (in the area known today as the Old West End). This is a painting by Charles Hague, who married RJW's niece Gertrude Wachenheimer.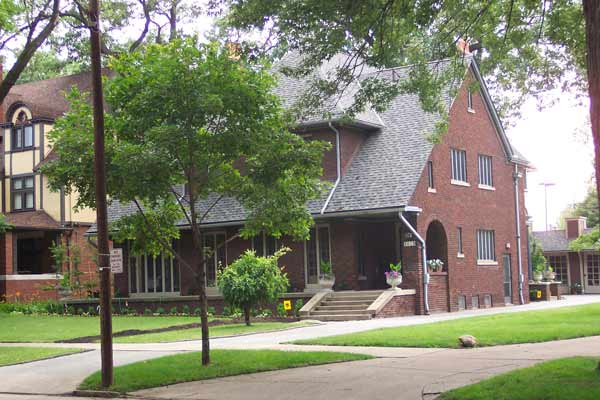 We took this picture as we drove on Scottwood Avenue in July 2003. The original RJW house was renovated in 1917. RJW and his wife Ida moved to another house on Grove Avenue, near the Art Museum, just a block away.
We were always puzzled by fact that the house in the old painting desn't look anything like the house as it stands today. One of the images of the original house, recently provided to us by Larry, the Old West End History Detective, helped resolve the mystery. Here's a message we got from Larry:
I checked my database of info on Old West End houses and found that I had recorded this info for 2015 Scottwood: Built in 1884 for $7,500. Designed by the architectural firm headed by George Mills. An alteration and addition plan #2280 in 1917.
1891 directory: Robert Jeffrey Wheeler, bookkeeper: Gertrude Wachenheimer, boarder; and Minnie Bauer, domestic.
1896 directory: Robert Jeffrey Wheeler, livestock insurance; Lyman Wheeler, actor-boards; Anna Ludeman, deomestic
1910 directory: Robert Jeffrey Wheeler, insurance-office at 8 Chamber of Commerce Building
1918 directory: Joesph Grosswiller
The Charles Hague painting shows the area as wooded, true to the street names of the Toledo west end neighborhood which was probably early in its development cycle when RJW's house was built.
Accouding to Larry, the 2015 Scottwood house was damaged by a fire in 1917. The Wheelers moved to a new house on Grove Place
July 2003
Email barbaramedamana@yahoo.com to contact webmaster