Wheeler Genealogy
ROBERT JEFFREY WHEELER of Toledo, OH (1843-1919)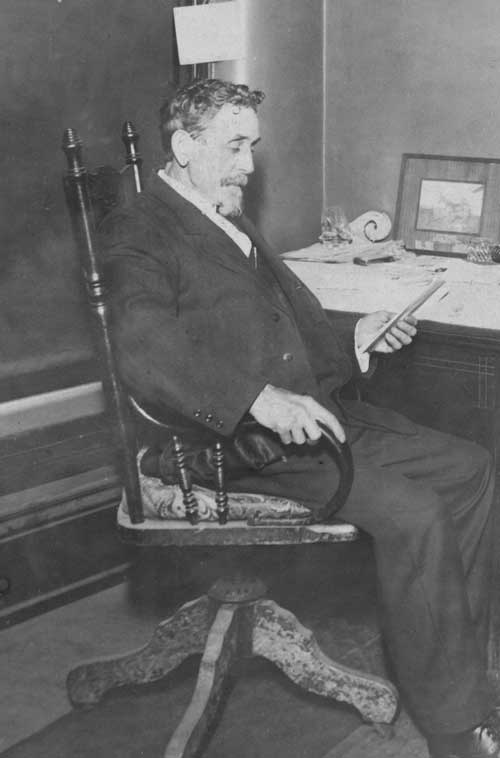 Picture taken on July 20, 1911
Robert Jeffrey Wheeler was born in Toledo Ohio, on Sept 25, 1843. He was the son of Lyman Wheeler and Maria Aiken Wheeler. Lyman moved to Toledo during the boom days of 1830s and established a successful business with interests in grocery and liquor trade.
Robert Jeffrey's father died when he was only 23 years old. He married Ida Thomas of Hudson, Michigan. He built the Wheeler Opera House in 1870-71. The white sandstone building was three stories high over a tangle of utility cables and a clattering traffic of the Monroe and St. Clair intersection. It occupied the northwest corner with 80 ft of walls on the Monroe street side and 120 on the St Clair side. The main entrance faced the St Clair street. The Wheeler Opera house opened on December 15, 1872 with a gala performance of the Bohemian Girl and the old-school diva Parepa Rosa as star. It had a seating capacity for 1500 with standing room for an additional 500.
Robert Jeffrey was the owner and manager of the Wheeler Opera House until 1883 and then he leased it to Mr. Whitney of Detroit, Michigan, who held the lease up to the time it was destroyed.
The Wheeler Opera house burned down early in the morning on St. Patrick's day, March 17, 1893. The last show in the Opera House was a minstrel performance by George Thatcher's "Tuxedo" troupe and it was to have been followed the next evening by a home-talent offering of "The Shaughran" by the Toledo Dramatic Club. Tradition has it that the amateurs lost their costumes in the fire.
The Blade published its fire report under the headline typical of the times - "Gone Up in Smoke". The janitor, who was sleeping over Peter Sattler harness store was awakened at 1 AM by the glimmering of flame. A dash into the burning theater only brought him up against a fire already out of hand. Firemen were summoned via an American District alarm call box. "The firemen were quickly at the scene and streams of water were playing on the hissing flames", the Blade account said. It must have been an incredible spectacle. Robert Jeffrey's loss was estimated at $80,000.
According to the Blade report, the tangle of electric, telephone, and telegraph wires in front of the burning theater was such that it was difficult to raise the extension ladders. This incident was one of the strongest arguments in favor of the subsequent program of underground work for such wires.
The Wheeler family did not rebuild the Opera House. A new building was erected at the northwest corner of Monroe and St Clair streets and was in the possession of the Wheeler family until 1935.
Robert Jeffrey died in 1919 and is buried in the Woodlawn cemetery.
References:
Oral history from family members
Toledo Blade