Overview of Wheeler Family History
Our family's history tracks that of America. It begins with the arrival of Puritan ancestors from England during the early 1600s; The Revolution is a major milestone. Later, the opening of the Erie Canal enabled the migration of our ancestors to New York and Ohio. "Lucky circumstances" (as characterized by Lyman Wheeler in 1836 in a letter to his fiance Maria Aiken) enabled them to prosper and become leading citizens. The Depression had a huge impact on the family fortunes.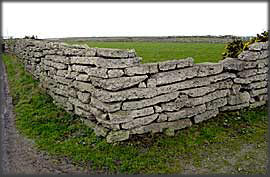 According to oral history, our family came to America during the early period of Puritan immigration from England. We believe that the family roots were in a town called Cranfield in Bedfordshire, England. We traced the genealogy back to Cranfield, based on secondary sources (i.e., books and work done by others). We haven't yet visited Cranfield but it is definitely on our travel wish list. We think that the first immigrant ancestor was Ephraim Wheeler, who came from England around 1635. Ephraim had a connection with Rev. John Jones who came to Concord, Mass. in the ship Defence, on October 3, 1635. We believe Ephraim arrived in Concord soon after 1635. He was made 'freeman' at Concord on March 13, 1639.
In 1644, Ephraim, his wife and one or two children, were among the Concord population that followed Rev. Jones to Fairfield, Connecticut. They were granted a home lot of 3 acres at Pequonnock. Ephraim's son, Samuel Wheeler, moved to Hartford, Connecticut sometime during the late 1600s.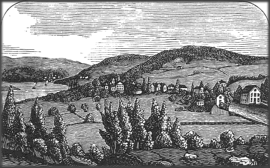 His descendents moved to Haddam, Connecticut circa 1700. They lived in Haddam Neck and Chatham until after The Revolutionary War. Our ancestor Beriah Wheeler's service in the war is known thanks to his pension application. The history of our family after early 1700s is well documented, with plenty of primary sources. The town of Chatham was incorporated into the present-day East Hampton. Today it is a semi-rural town with many old roads that run along the Connecticut River. Driving those roads it is easy to imagine the area as a perfect setting for recruiting young sailors to the cause of revolution.
After The Revolutionary War, between 1785 and 1790, Beriah Wheeler moved north to Winhall/Jamaica, Vermont with a group of families (e.g., Brainerd, Williams), who were close friends and relatives.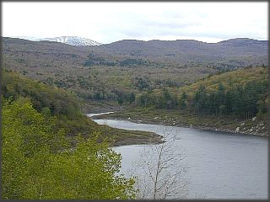 Beriah Wheeler became a deacon in the Congregational Church and served as the Winhall town clerk for some time. Beriah had nine children. Beriah is the earliest ancestor about whom we have a substantial amount of primary documentary evidence. The town record book with Beriah's writings is still there in Winhall town clerk's office. We have a copy of his will. We also have a copy of a letter he wrote in 1833 to his son Lyman who was staying in Hannibal, New York (with Lyman's brother Henry); Lyman had moved west to Buffalo by the time the letter arrived. It was written just after Christmas and contains a wealth of information about the family. The letter also reflects Beriah's deep Christian faith. Beriah Wheeler is buried in the old cemetery on Wilhall Hollow Road in Winhall, VT. Another letter we have a copy of was written in 1828 by Beriah's daughter Achsach to her brother Lyman, who was teaching in Leicester, Mass. at that time.
Lyman Wheeler was an entrepreneur and his arrival in Hannibal, NY, was well-timed with the big westward movement of New England families. We think that Lyman, who was in his twenties, arrived at Hannibal about five years after the canal was finished. He was staying with his brother Henry who had moved to Hannibal and settled there. Lyman met his future wife, Maria Aiken, in Hannibal. Soon afterwards he moved to Buffalo where he became a dealer in books. He moved further west and settled in Toledo, Ohio in 1836, where he built up a thriving business in the grocery trade.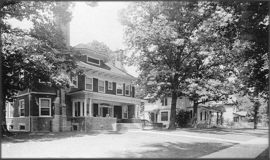 Lyman was an early settler in Toledo and his descendents (Robert Jeffrey Wheeler and his sisters) built the old Wheeler Opera house there, which burned in a spectacular fire on St. Patricks' day in 1893. This certainly was a major event in the family history. My grandfather, Lyman Wheeler, (Robert Jeffrey's son), was an accomplished tenor, who made a career as an opera singer. He became a member of a traveling opera company. He eventually married and settled in New York City.
Go to Wheeler Family History Pages
June 2005